This seminal research from consultancy Age of Majority substantiates the extent to which mature consumers remain misunderstood and overlooked
by marketers, who are fixated on targeting youth.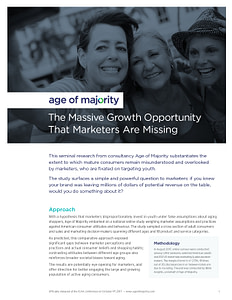 The study surfaces a simple and powerful question to marketers: if you knew your brand was leaving millions of dollars of potential revenue on the table, would you do something about it?
With a hypothesis that marketers disproportionately invest in youth under false assumptions about aging shoppers, Age of Majority embarked on a national online study weighing marketer assumptions and practices against American consumer attitudes and behaviour. The study sampled a cross section of adult consumers and sales and marketing decision-makers spanning different ages and 18 product and service categories.
As predicted, this comparative approach exposed significant gaps between marketer perceptions and practices and actual consumer beliefs and shopping habits; contrasting attitudes between different age groups also reinforces broader societal biases toward aging.
The results are potentially eye-opening for marketers, and offer direction for better engaging the large and growing population of active aging consumers.
Download your copy now.
Download Whitepaper
Click below to download your copy of our whitepaper: