Top 10 Nine Romantic Movies Featuring Active Aging Actors
In celebration of Valentine's Day and with romance in the air (and at your local card shop), I thought I would provide my Top 10 List of romantic movies that feature Active Aging actors.  Naively I thought this would be a relatively easy task because who hasn't seen a RomCom with some "older" actors in the past few years?
To my surprise, and despite the many popular movies that feature Active Aging actors, finding romance films with older stars was a much harder task than I had anticipated. And once you get past the films that include Meryl Streep (she appears in four of the nine movies on my list), I could only find five other movies that I believe fit the category. Hence my "Top Nine List" instead of the usual "Top 10" format.
Before I present my list, keep a couple of things in mind as you consider about other movies that might fit this category:
"Old" movies, particularly ones that were filmed in black and white, generally did not feature older actors. For example, Clark Gable was only 38 and Vivien Leigh 27 when Gone With The Wind was released back in 1940.
I did not include romance films that feature an Active Aging actor and a younger actor. So, movies like Lost in Translation and Hello My Name is Doris did not make the cut.
And now the reveal! Instead of ranking them based on personal preferences, I have used the scoring from both Rotten Tomatoes and IMBd to do that for me.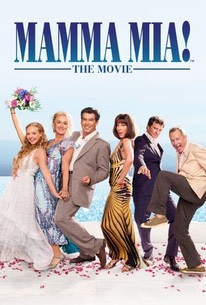 #9.  Mama Mia (2008)
Featuring several older actors including Meryl Streep, Pierce Brosnan, Colin Firth & Stellan Skarsgard.  Lots of romance in this one as we try to learn who Sophie's (the bride, Amanda Seyfried) real father is.
#8.  It's Complicated (2009)
A fun movie that stars Meryl Streep as a successful bakery owner and single mother of three who starts a secret affair with her former husband, played by Alec Baldwin, ten years after their divorce, only to find herself drawn to another man: her architect (portrayed by Steve Martin).
#7.  Last Chance Harvey (2008)
In London for his daughter's wedding, a struggling jingle-writer, Harvey Shine (Dustin Hoffman), misses his plane to New York, and thus loses his job. While drowning his sorrows in the airport pub, Harvey meets Kate (Emma Thompson), a British government worker stuck in an endless cycle of work, phone calls from her mother, and blind dates. A connection forms between the unhappy pair, who soon find themselves falling in love.
#6.  Something's Gotta Give (2003)
When aging womanizer Harry Sanborn (Jack Nicholson) and his young girlfriend, Marin (Amanda Peet), arrive at her family's beach house in the Hamptons, they find that her mother, dramatist Erica Barry (Diane Keaton), also plans to stay for the weekend. Erica is scandalized by the relationship and Harry's sexist ways. But when Harry has a heart attack, and a doctor (Keanu Reeves) prescribes bed rest at the Barry home, he finds himself falling for Erica — who, for once, might be out of his league.
#5. Hope Springs (2012)
Long-married couple Kay (Meryl Streep) and Arnold (Tommy Lee Jones) love each other, but after so many years together, Kay feels the need to spice things up and to reconnect with her husband. Learning that a renowned marriage counselor (Steve Carell) will visit their town of Great Hope Springs, Kay manages to persuade her stubborn mate to attend a retreat with her. As they shed their bedroom hang-ups, Kay and Arnold find that the real challenge is reigniting the spark that originally brought them together.
#4. The Best Exotic Marigold Hotel (2011)
British retirees (Judi Dench, Maggie Smith, Bill Nighy) decide to outsource their retirement to exotic — and less expensive — India. Lured by advertisements for the newly restored Marigold Hotel and imagining a life of leisure in lush surroundings, they arrive and find that the Marigold is actually a shell of its former self. Though their new home is not quite what they had imagined, the retirees find that life and love can begin again when they let go of their pasts.
#3. Our Souls At Night (2017)
Starring Robert Redford and Jane Fonda as a widow and widower who've lived next to each other for years. The pair have almost no relationship, but all that changes when Addie (Fonda) tires to make a connection with her neighbor.
#2. The Bridges of Madison County (1995)
A moving love story about a photographer (Clint Eastwood) on assignment to shoot the historic bridges of Madison County. He meets a housewife (Meryl Streep yet again!), whose husband and children are away on a trip, and the film traces a brief affair that is never sordid but instead one of two soul mates who have met too late.
#1. Away From Her (2006)
Perhaps the least known film on this list but the one that was rated the highest. This is an emotional story about a long-married couple, Fiona (Julie Christie) and Grant (Gordon Pinsent) who find their mutual devotion tested by her struggle with Alzheimer's disease. When it becomes apparent that the condition is worsening, she checks into a rest home. Grant visits her a month later and finds that his wife has grown close to Aubrey (Michael Murphy), a fellow resident. Jealous and hurt, Grant finally seeks help from Aubrey's wife (Olympia Dukakis) when Fiona suffers a crisis.
While this list contains some great movies featuring some of the best actors of our time, the options were few and far between. It appears that, just like most other industries, Hollywood and the rest of the film industry is being inhibited by the myths associated with aging consumers. It's time for them to rethink how they portray older actors in future productions.