Family caregivers are often gatekeepers to reaching older adults, who require assistance, helping them choose products and services that support their care and/or that help them live independently.
Based on a comprehensive survey of more than 2,100 family caregivers throughout North America, this ground-breaking report provides a compass for companies and organizations appealing to this increasingly important audience.
Get an in-depth profile of caregivers in North America
Learn about the needs of caregivers and their care recipients and what is likely to trigger their demand for products and services
See why you should jump on the opportunity now to build affinity with caregivers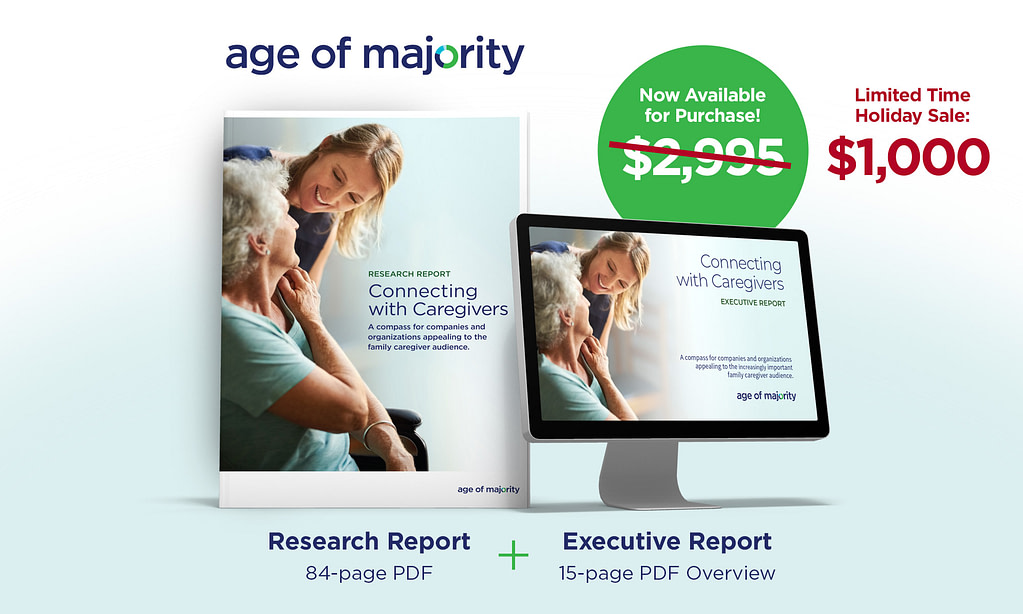 What's included in the Package?
84-page PDF report that includes complete findings from the research with insightful data, charts and commentary based on the research findings.
An easy-to-read Executive Summary PDF, in presentation format, that includes the key findings and is easily shareable to those who do not want to review the entire report.
Full report includes practical, data-driven insights under the following core sections:
Survey Methodology
Executive Summary
Who are the Family Caregivers?
Who are the Care Recipients (according to caregivers)
The Nature of Care Being Provided
Caregiver – Care Recipient Relationships & Conversations
The Caregiver Support System
Paid Caregiving Needs
Caregiving Products/Services Opportunity
The Role of Technology in the Future of Caregiving
Looking to the Future of Caregiving
Caregiver Profiles (a closer look at key caregiver groups)
Appendix (demographic profile of family caregivers)
Purchase the report quickly and securely with immediate E-delivery through our partner, SendOwl.
"

If you are selling to the active aging (55+) audience and haven't yet considered family caregivers – Connecting with Caregivers is an essential starting point.

"
Colin Milner
CEO/Founder
International Council on Active Aging