Pickleball – Is This Lawn Bowling 2.0?
I consider myself to be an avid racket sports enthusiast.  Since the age of 8, I have played most racket sports out there — ping pong, badminton, racquetball, squash, paddle/platform tennis and (regular) tennis.  A history of foot and ankle injuries over the years has limited what I can play, so today I focus primarily on tennis played on clay court surfaces that are easier on my joints.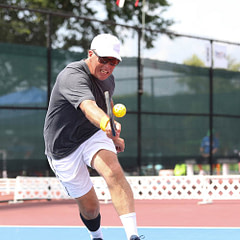 Recently I have been introduced to a relatively new game known as "Pickleball".  What is Pickleball? For those of you who aren't familiar with it, Pickleball is a sport played on a badminton-sized court with the net set to a height of 34 inches at the center.  It is played with wooden Pickleball paddles and a perforated plastic ball, similar to a wiffle ball. While there are several theories around the origin of the game's name, one is that it was derived from one of the founder's family dog, Pickles, who loved to chase stray balls and hide them in the bushes.
Since Pickleball is really a combination of several racket sports that I have played, you would think that it is ideal for me.  However, I faced a dilemma before I agreed to play. I was worried that people would look at me differently if I took up the game, in the same way people view lawn bowlers.  I mean, when was the last time that you saw someone under the age of 80 lawn bowling?  (Note to the reader:  I actually love lawn bowling and hope to pick it up well before I turn 80!  So, no offense to anyone currently partaking in this activity).
Last year while on vacation in Florida, I thought I would give Pickleball a try. Yes, almost everyone I played with was on the north side of 50, and yes, there were many knee and ankle braces in full view, but I was amazed at the level of skill on the court and the workout that I got.  And because the sport tends to be more social in nature, playing doubles and/or mixed doubles is promoted, and that is usually more fun than whacking a tennis ball over the net at your singles opponent. Needless to say, it was a great experience and a game that I will play often now and in the future.
With more than 2.8 million Pickleball players in the US alone, and with 75% of "core" players aged 55 and over, Pickleball is clearly here to stay (just check out the increasing number of Pickleball tournaments).  It is great for Active Agers who either still play tennis or who can't anymore due to mobility issues, as well as for those who just want to get some exercise, socialize and have fun while they are at it.
And one personal piece of learning for me after experiencing the game first-hand is don't jump to conclusions or put stereotypes on activities like Pickleball before experiencing them first. We should take this approach when evaluating anything that is labelled as something "only old people would do or use."
For any avid Pickleball players out there, you may want to check out the upcoming US Open Pickleball Championship in Naples, Florida from April 27 – May 4, 2019.  www.usopenpickleballchampionship.com