Emptying my Bucket List
I get the whole notion of a bucket list.  You fill it with all of the things that you want to do before you die and you work your way through them as time marches on.  It's a pretty simple concept and as I get older I frequently get asked what's on my bucket list.  I struggle with the concept a little as it kind of implies a countdown to your death…..
Recently, I started to empty or "unbucket" my ever-growing list of items by doing something that I have always wanted to do but never had the guts or right moment to do.  I went skydiving!
If you read my last blog, you would know that this was a 55th birthday gift from my wife and son.  We picked a beautiful sunny and calm day on the coast of Maine with my boy (Asher) joining me on this momentous occasion.
We arrived at the very small airport in Biddeford, Maine where our two instructors/tandem jumpers, Rich and Nick, provided some brief instruction/training after we had signed the lengthy waiver form.  We stepped into our harnesses and boarded what seemed like the smallest plane ever for our climb into the sky.
We ascended for about 10 minutes, enjoying the view and joking with Asher on the way up (although I could tell he was a little nervous as we got closer to jump time).  Fortunately, the fact that our two instructors had more than 20,000 jumps combined helped to calm us down somewhat.
At 10,000 feet, it was time to jump and there was no turning back.  The flimsy door to the plane was opened with Asher and his instructor the first to jump.  With Asher's arms crossed and his feet somewhat firmly planted on the small platform under the wing, my boy tumbled out of the plane.  No screaming. So far, so good.
Then it was my turn and we shimmied our way to the open door where I felt the wind rush against my face.  With a huge smile, we dove headfirst into the air, plummeting down at 120 miles per hour.  What a rush!  Other than that initial split-second tumble from the plane, my descent down was pure joy.  We were in a freefall and there is no other feeling like it.  We were flying!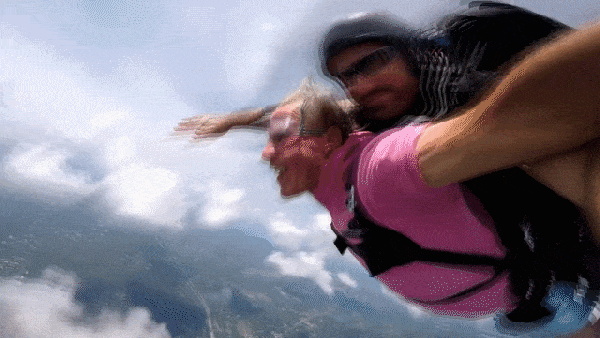 After about 45 seconds, my tandem partner pulled the cord and our chute opened.  There was a brief jerk upwards as our descent slowed and then complete calm and silence as we floated in the air.  We took turns maneuvering our parachute and it was awesome to see my son hovering close to me.  I was even able to catch sight of my wife and dog waiting for us below.
The only negative part of the experience was our landing, which was bumpier than expected thanks to a thermal pocket that unexpectedly forced us down just as we were landing. Let's just say that sitting is not the most comfortable activity for me right now.
When I tell people about my experience, the question that I usually get is, "would you do it again?"  My immediate response (as is my son's) is most definitely!  And I know that I would enjoy it even more my second time.
With this experience behind me and as I look to other items on that bucket of mine, I have a feeling that there will be many more new and adventurous activities that I will include than I had originally thought.
If I can offer one final small piece of learning from this personal experience it's not to worry so much about what's on your bucket list or even having a bucket list at all.  Embracing something new or unknown is adventure enough and something you'll never forget. Find that leap that's right for you.
And if you are interested in skydiving yourself, I highly suggest you check out www.skydivecoastalmaine.com.