Digital Delusions
We can all agree that today's tweens, teens and twenty-somethings, do digital differently than their parents.  But the there's a monumental difference between 'doing digital differently' and 'not doing digital at all' – a concept that many marketers seem to struggle with.
The truth is, when it comes to tech and digital engagement among older consumers there's a big difference between marketer perception and reality – a problem that's likely spelling missed opportunity for marketers across consumer product and service categories.
The opportunity presents itself in two ways:
Recognizing digital as a critical marketing channel for reaching and engaging older consumer audiences
Recognizing older consumers as a lucrative market for tech and electronics
Focusing on the perception-reality gap, and opportunity #1 – consumer engagement, consider this:
In our recent US national study of consumers and senior marketers, we asked, "to what extent do you believe that the stereotype 'People over 50 are less digitally savvy or engaged'" is true. We discovered that while only a third of all consumers agreed this stereotype is true, four of five marketers agreed.  One might expect that likelihood to believe this stereotype would be higher among younger respondents but we were shocked that marketers and consumers share such different perspectives.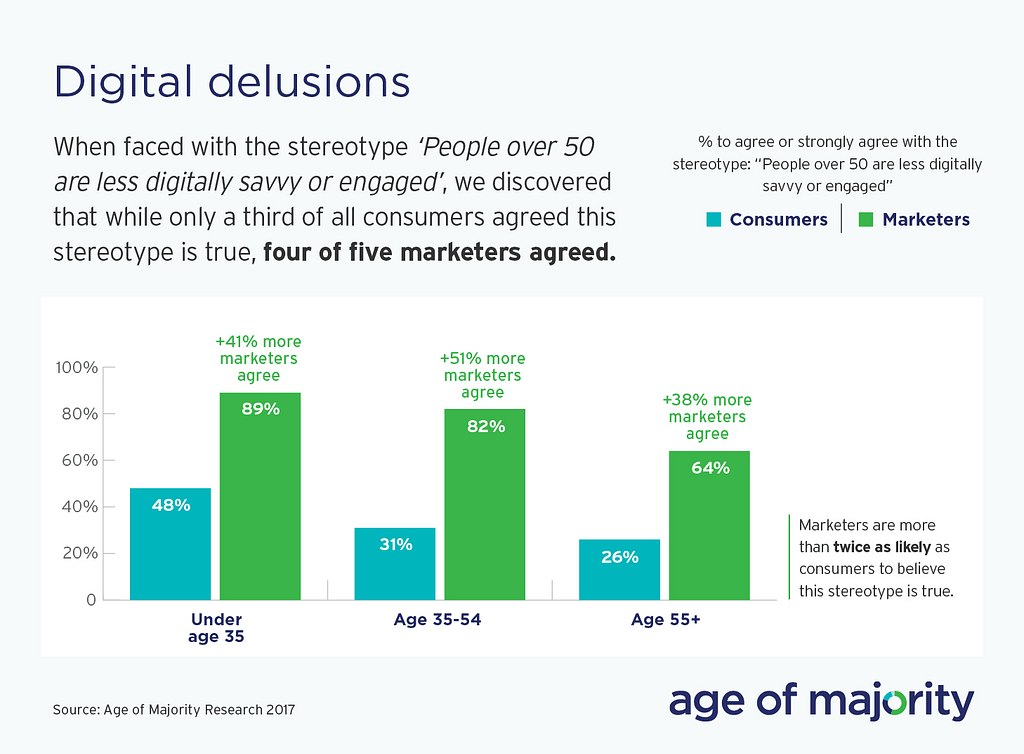 Maybe we get it.  On an objective, absolute basis, there is a larger proportion of older consumers (we're talking 70+) who are not online.  Even still, it confounds us that so many more marketers than consumers ascribe to this digital stereotype even though data clearly demonstrates 55+ are heavy digital media consumers and tech spenders.
For instance:
They're increasingly mobile: 2015 to 2016, Boomers increased their average time spent with mobile apps by 37%, compared to only 3% for Millennials according to comScore data.
They're more engaged: A 2017 report from StrikeSocial found that boomers registered higher view rates across all devices (desktop, mobile and tablet) compared to both millennials and Gen Xers.
They're outspending: KPMG's January 2017 global online consumer report revealed that the Baby Boomer generation now spends more online and instore than Millennials do.
And yet…consumers 50+ remain the target of only one-in-ten of all advertising dollars.  And despite having higher engagement rates, boomers are not being targeted on YouTube as often as their younger peers; Instead, advertisers allocate disproportionately more budget to millennials (156% more) and Gen Xers (137% more).
I could go on…but the bottom line is:
Beyond tech and electronics, why aren't all B2C marketers doing more to target and convert older shoppers via digital channels?
In other words, just because a consumer isn't on Snapchat doesn't mean that they are technology illiterate or disengaged!  In fact, I would argue that consumers who are spending their tech time researching products and shopping, and who actually have money to spend, are the digital consumers most likely to be receptive to engage with your brand and buy.