Cause for Clowning Around
One of the Dirty Dozen Myths we have identified is the belief that people become disengaged from society as they get older. This is often a reality for the group of 55+ consumers we call Traditionalists and this isolation usually leads to both physical and mental decline.
For Active Aging consumers (that's 75% of people 55+), however, engagement in society (in areas such as politics, religion, continuing education, work life and relationships) is critical to staying relevant and active. They are also actively donating to and supporting charities and other causes – essential to supporting their overall sense of purpose.
While I have donated my time personally and through our business to many worthwhile causes and organizations over the years, the primary focus of my volunteer efforts is supporting the Santa Claus Parade, held every third Sunday in November in Toronto.  This past weekend marked the 115th Parade.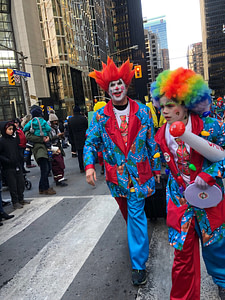 The Santa Claus Parade is seen as the official start of the holiday season in Toronto. Somewhere in the neighborhood of 750,000 people line downtown streets and millions of others watch it on TV. It is the largest children's parade in North America and the largest outdoor entertainment event in Canada.
I have been involved with the Santa Claus Parade for more than 13 years.  My firm has handled all of the PR for the Parade on a pro bono basis, garnering more than 225 million impressions each year. I have been a Parade Board member for close to 10 years and recently joined the Executive Committee as well. Under the Board's direction, we have made the Parade financially stable and are working towards a long-term vision to ensure that the tradition lives on.
But the highlight of my involvement in the Parade happens on Parade day when I am transformed into a Celebrity Clown.  Celebrity Clowns kick-off the Santa Claus Parade.  There are about 150 of us in all and we pay for the privilege of bringing "Miles of Smiles" to people of all ages.  Our day starts @8:30 in the morning when we head to a downtown hotel to prepare for our 6.5 km (4 mile) walk.  After a full breakfast, we put on our customized clown outfit, have make-up applied by a professional artist, and then board school buses that bring us to the start of the Parade.  Every clown has his/her own "thing" (gag or joke) to entertain the crowds and mine happens to be handing out toilet paper — one sheet at a time!  I also come equipped with confetti cannons that I launch along the route.  After two hours of walking and entertaining, I am both physically and mentally exhausted.
So why do I do it?  After all, while my family celebrates Christmas (since my wife is Christian), I am Jewish and I did not grow up celebrating this holiday. My involvement with the Parade is driven by two things:
First, being a Celebrity Clown is one of the highlights of my year.  Being a clown basically means that you can do whatever you want (within certain limits, of course) and nothing makes me happier than trying to entertain large groups of people. I am both invigorated and exhausted by the time we are finished and the joy that our special event brings to so many people is truly satisfying.
Second, the Parade is important to the city of Toronto.  In an age where so many people are stressed and good news is sometimes hard to find, this annual event brings together people of all races, religions and backgrounds. Many of those who attend don't even celebrate Christmas.  And since I was born and raised in this city and my livelihood has been closely tied to the success of the business world here, contributing to the growth and happiness of our community is important to me.
So what does my experience offer for the marketing world?  There are significant opportunities for charitable and not-for-profit organizations to target Active Aging consumers who have the time and desire to get involved and give back to their community.
For any brand, focusing on what is important, meaningful and purposeful to its audience can inspire and motivate a targeted group of people who are very engaged in their community and society.