Ageless Innovation
Ford connects with older car buyers by not catering to age at all.
Here's a question: do you think a 75-year-old driver wants to be told what kind of car he/she should be driving any more than a 25-year-old? Probably not, still the physical needs of an older driver might very well differ from those of their younger counterpart.
As a car manufacturer how do you ensure a vehicle delivers against the needs of an older car buyer while maintaining its broad appeal across age groups? If you're like Ford you don't assume an older driver wants a different vehicle or driving experience from a younger one. And you do recognize that: 1) more older drivers are maintaining their licences later in life and love the independence a vehicle offers; and 2) older drivers may experience specific physical constraints.
"We approach car design not based on how a vehicle will deliver against the expectations of any one age group, but rather on how the vehicle delivers against the expectations for that vehicle overall," says Katie Allanson, a Human Factors Engineer with Ford Motor Company, based in Dearborn, Michigan. "In doing so we conduct extensive usability testing and observation with drivers ages 20 to 75 to ensure that we check all the boxes against a range of essential items, from the ease and intuitive use of technology, instruments and controls to ergonomic design and visibility."
In this way, Ford design is meant to be as inclusive as possible. Still, the company goes the extra mile in better understanding the mobility constraints faced by many older drivers. It created Ford's Third Age Suit as a tool to help designers and engineers experience first-hand the age-related challenges around things like vision, hearing, joint mobility, hand strength and control and neck motion.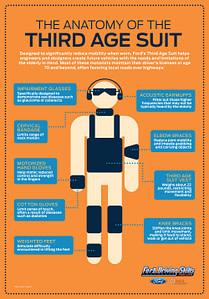 Ford understands that older drivers aren't any less interested or capable when it comes to vehicle technology and features. "We try to make technology logical, intuitive and inviting, regardless of your age, because we know older drivers are interested in exploring and using technology as much as younger ones, emphasizes Allanson."
For example, Ford adapts how we commonly interact with technology outside of the car – including the gestures we use on cell phone or tablet screens or the tab approach used in web browsers and common software applications – and brings it inside the vehicle, so it's seamless and intuitive. This makes as much sense for older drivers as younger ones, considering Baby Boomers lead the way in the growth of smartphones.
"Part of our vehicle design is rooted in Ford's DNA and what our customers know and love about us and part of our approach is ensuring our design works for everyone," says Allanson. "That includes incorporating the latest features for fun, functionality, drivability and safety."
So, what's the ultimate proof that a vehicle is going to win over mature drivers? "It's called the Louis test," laughs Allanson. "That is, does it get a thumbs-up or thumbs-down from my 71-year-old father."
And what advice does she offer about selling automotive products to older drivers? "Don't buy into myths that they're reluctant to engage with technology or enjoy the driving experience any less than younger drivers," says Allanson. "Yes, there are age-specific needs we must address, but any successful vehicle needs to make its driver happy, whether they've been driving for only a few months or for decades."
---
Note: this blog is based a one-on-one interview AoM conducted with Katie Allanson, a Human Factors Engineer with Ford Motor Company.