The Age of Cult Brands
I recently had the pleasure of attending and speaking at the 5th annual marketing summit in Banff known as The Gathering. It is one of the premiere marketing events of the year and it brings together some of the world's most coveted brands to share their secrets and offer an opportunity to learn from the courageous leaders and trailblazers who are reaping the benefits of unbreakable brand affinity and loyalty.
Cult brands are those elite brands and their leaders who've attained cult status among consumers. This year's honorees included Jack Daniel's, PlayStation, Jeep, Vans, Snickers, Gatorade, Beats by Dr. Dre, and charity: water. All great brands and all deserving of the recognition.
As I was preparing for my workshop titled, "Muck the Fillennials", I thought about brands that have a cult following with the active aging consumer.  These are brands that have been around for years that are real and authentic in the minds of older consumers.  Active agers grew up with them and they continue to revere them even as they get older.
Four brands came to mind:
Levi's (who was recognized at the Gathering in 2017) — I can't name one of my friends who did not grow up wearing a pair of Levis' jeans.  You weren't "cool" unless you wore Levi's and the brand still continues to be an iconic brand in the category despite significant competition from other brands who are primarily targeting a younger age group.
Volkswagen — If you were to pick one brand that symbolized the hippie craze in the 1960s it would be VW.  Seeing a VW Van brings back memories of Woodstock and the classic VW Beetle is still a big seller amongst those active agers who want to live life to the fullest including having fun when they are driving.
Harley Davidson (who was recognized in 2014) — Here's a brand that is over 100 years old with a cult following of more than 650,000 members, many of whom are over the age of 55. It is one of the classic brands of all time that now has to go looking for younger users!
Saturday Night Live — my personal favourite that first aired in 1975. While the show has gone through many different phases with a huge turnover in its cast over the years, its producer, Lorne Michaels, has created one of the best cult brands that enjoys special affinity with active aging consumers.  SNL continues to retain loyal, older consumers while appealing to younger people through its content, its hosts and the musical entertainment they bring to the stage every Saturday night.
I applaud the folks behind The Gathering for honoring cult brands from around the world and here's my vote to see SNL on the list for 2019 honorees.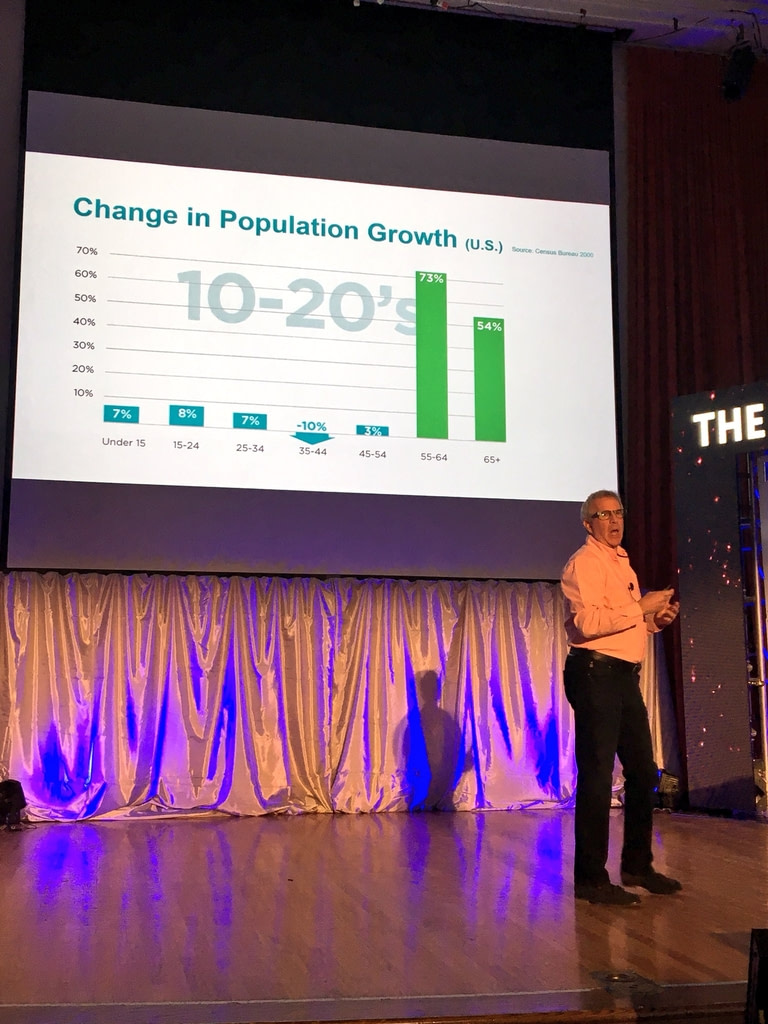 Above: Jeff Weiss giving his "Muck the Fillennials" presentation at the The Gathering 2018. Photo credit: The Gathering