Free eBook: Eight Trends Impacting Community Living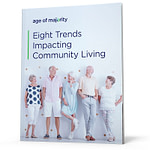 What's Next for Community Living?
Operators in the community living industry are subject to a larger potential set of societal, demographic and environmental influences than most other categories. What happens in the world affects where and how people want to live, work and play, including their choice of community. As the world shifts, so do the needs, wants and attitudes of your current residents and prospects.
So, how are you keeping up with the trends that shape what you offer today and how you will attract the next wave of residents?
Here we have broken down 8 trends with the potential to influence what your prospects are really looking for — everything from the food you serve, the amenities you offer to how you integrate with the outside community. We explore what's behind each trend and what you can do about it.
Download your copy of the book now.
(See below for some sample spreads).